New Year, New Sizes: Custom Century Upholstery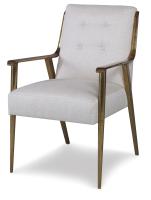 You might be one of the many families discovering that "standard" size furniture does not fit into their above average lives. Maybe you have a long, narrow basement space to fill or a small nook in a dining room. Builders have become very creative with home design and furnishings to fit your needs. If you can dream it in custom furnishings,  they can do it. We'd like to introduce you to one of our vendors: Century Furniture.
Century Furniture is a North Carolina based manufacturer that specializes in custom upholstery and wood furnishings. They offer over 50 finishes to choose from as well as over 2,000 fabrics and leathers that would suit any design needs. To make the choice easier, Century has a fabric search option that allows you to search for fabrics by keywords, grade, color, etc and even email these selections to yourself or friends. You can also view every finish and nailhead option in store and online. One of the best parts about their trims is that you can add welts, fringes, and cord in Grade 1 at no extra charge.
Frequently customers come in with specific dimensions in mind. If you need a sofa "greater than 90 inches," Century is for you. If you need a "deep" sofa for the downstairs family room, Century can manufacturer a custom width for the tall folks in your life. Loose cushions can be made tight and skirts can be taken off or added to various styles. The options are endless. Do not feel discouraged if you cannot find something that easily fits your needs on the floor. With large fabric swatches, online views of details such as trim, and expert photos of product, you can be reassured that the colors and details you are choosing for your furniture piece will be accurate.
---