5 Office Spaces to Love
In today's digital age, most homes require a home office of some sort whether it be a space to work from home, a place to pay bills, or an area for children to study. Even in the tightest of spaces, you can carve out a little niche to make the daunting task of paperwork a little easier.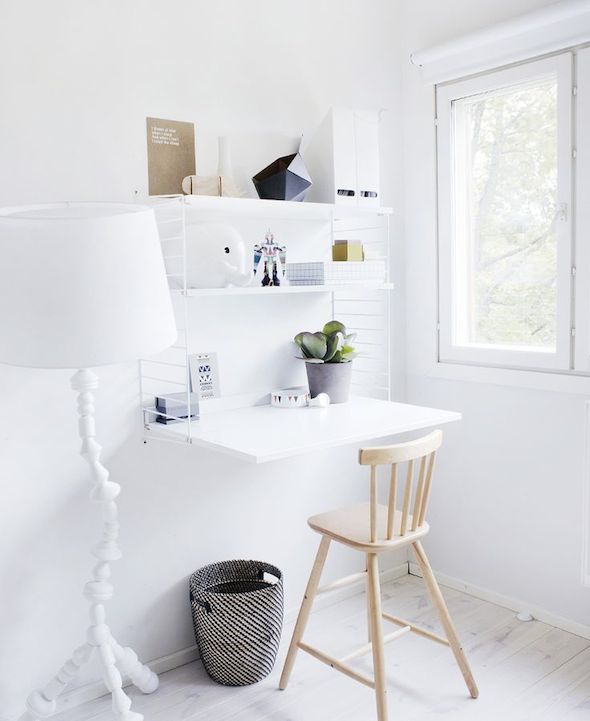 1. The simple wall-mounted surface in this Scandinavian design takes up little space and allows for storage at the floor and with shelving above. It's simplicity and function at its finest.
2. Carve out a nook in a kitchen or closet for a command center. Use wall space for notes and inspiration or add shelves for office supplies and storage. Colorful and functional!
3. A drop down desk concealed in a cabinet. Great storage in an unused corner of a home!
4. Some simple 2' x 6' boards create a standing desk in this home office at a Beautiful Mess. This alternative would work well with just a small section mounted such as in a studio space. This would be ideal followed by shelving to the ceiling for maximum storage.
5. An office on a stair landing? Brilliant use of normally underutilized space! This setup houses tons of storage and eliminates the need for an extra room just to craft. Perfect, again, for small space living.
Want to see more office ideas? Connect with us on Pinterest and view our "Office Spaces" board for inspiration. Do you have a note-worthy office space? Send us an Instagram of your space @rugandhome and we may feature YOU on our Facebook page!
---
1 comment